Product development and manufacturing for "maximum data security"
Products and services:
Patented highly secure and compact multi-computer system for maximum data security "Cyperion®1"
Hardware-based high security concept
Three physically separated computer systems with different security levels in one device
Highly secure subnetworks can be created quickly and easily with only one Cyperion®1 system
European patent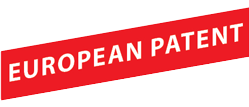 In view of the constantly increasing cyber crime HTV Cyperion GmbH, specialized in IT security, offers solutions for maximum data security.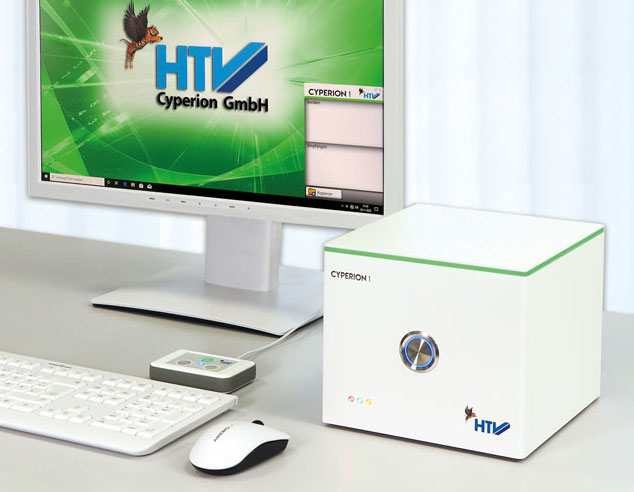 In contrast to conventional security solutions (e.g. firewalls, antivirus software) the newly developed patented Cyperion®1 is a highly secure and compact multi-computer system which includes a hardware-based high security concept.

Three physically separated computer systems with different security levels in one device allow a strict separation of "secure" and "normal" work.
Cyperion®1 signalizes the area currently active by the appropriate illuminated lighting strip of the computer, the desktop wallpaper as well as the illuminated buttons of the manual control unit, the so-called "Cyperion®-Switch".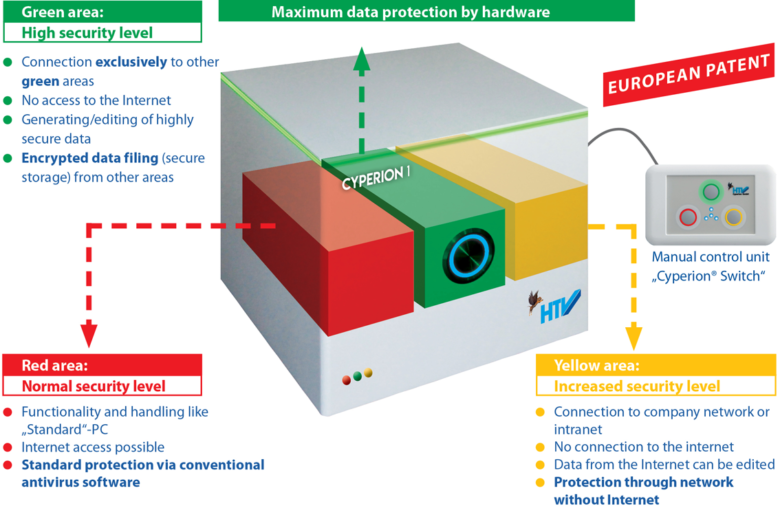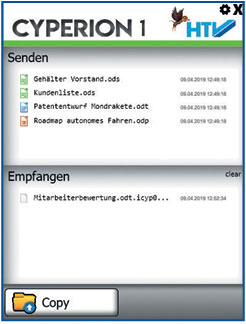 Via the "Cyperion®-Toolbox", the data can be transferred arbitrarily and conveniently between the three areas. Using Drag&Drop, the data is transferred to a kind of "Outbox". By selecting the target area via the manual control unit, the so-called "Cyperion®-Switch", the data is subsequently transmitted to the selected "Inbox" and processed accordingly in this area.
Application
When handling correctly, the computer system Cyperion®1 offers with a hardware-based physical separation a unique solution to move freely on the Internet with only one device without exposing sensitive data to the risk of e.g. hackers or viruses.
For exclusive groups, such as management, board of directors or R&D department, highly secure subnetworks can be created quickly and easily with only one Cyperion®1 system, in order to protect sensitive data from the unauthorized access of third parties – in particular in view of the constantly increasing cybercrime.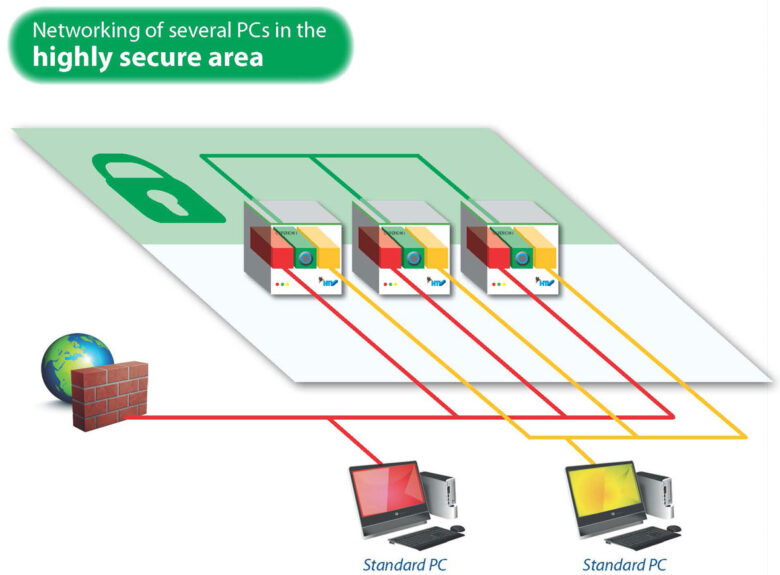 Contact:
HTV Cyperion GmbH
Robert-Bosch-Str. 28
D-64625 Bensheim
Phone: +49 (0) 6251 / 8 48 00-0
Fax: +49 (0) 6251 / 8 48 00-30
E-Mail: info@HTV-Cyperion.de
www.HTV-Cyperion.de