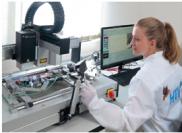 Rework - Repair and modification of electronic assemblies as a service of HTV
---
"Rework" signifies the repair / modification process
of electronic assemblies, in which components
are removed and/or are soldered.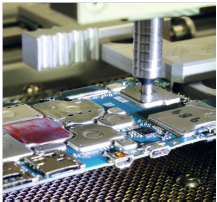 The requirement of a "rework" can have several reasons.
For example, a design error in electronics development, an incorrect component placement or a defective component leads to the failure of the assembly and thus requires the replacement of one or more components.
The highly modern HTV rework systems enable a fully automatic removal of components from the assembly or soldering of new components to the printed circuit board by a standardized reflow soldering profile (assembling of small and medium volumes).
Repairs and modifications of assemblies can be implemented within the shortest time under highest quality standards.
Possible applications:
• Desoldering of individual (possibly defective) components from an electronic assembly
• Retrofitting of an assembly with components
• Reflow simulation for the qualification of components for the soldering process (reflow process)
• Desoldering of valuable obsolete components from available residual assemblies
---